SUNDAY FAMILY is back in town !
Dimanche 19 Novembre, Le Play, Immek & Co investissent le TROLLEYBUS dès 22:00 et vous donne rdv pour cette 3ème édition de la saison 2016/2017!
Avec au programme une édition spéciale dédiée au collectif marseillais « ROUGE KARTEL »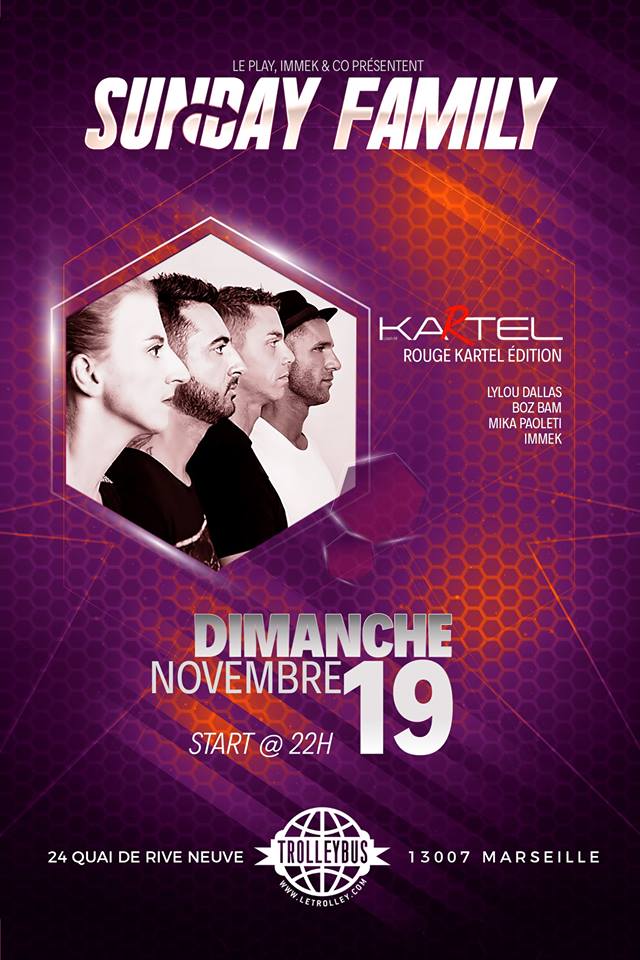 💢 Rouge Kartel 💢
🔈 Boz Bam: https://soundcloud.com/bozandmonstrr
🔈 Immek: https://soundcloud.com/immek
🔈 Lylou Dallas DJ: https://soundcloud.com/lylou-dallas
🔈 Mika Paoleti: https://soundcloud.com/mikapaoleti
Everybody's welcome: clubbers, gays, t-dance lovers, tribus de la nuit … Un seul mot d'ordre:
GOOD MUSIC / HAPPY PEOPLE !!!
Please share, like and come with your friends 😎
Pour que vos dimanches ne ressemblent plus jamais à des dimanches…
… Join the family 😉
https://www.facebook.com/events/514792565548980/
# PAF: Entrée 5€ – Conso 10€
La direction se réserve le droit d'entrée.