SUNDAY FAMILY
DIMANCHE 17 AVRIL 2016
Le Play, Immek & Co investissent le TROLLEYBUS dès 19h00 et vous présentent:
### SUNDAY FAMILY ###
>> Fini le blues du Dimanche soir !
La Sunday Family est là pour vous divertir dès 19h00:
Terminons le week-end ensemble autour d'un verre avec du bon son sur le dancefloor d'un club dont la réputation n'est plus à faire à Marseille.
Everybody's welcome: clubbers, gays, t-dance lovers, tribus de la nuit … Un seul mot d'ordre:

>> HAPPY MUSIC FOR HAPPY PEOPLE ONLY <<
Un son happy, progressif et entraînant.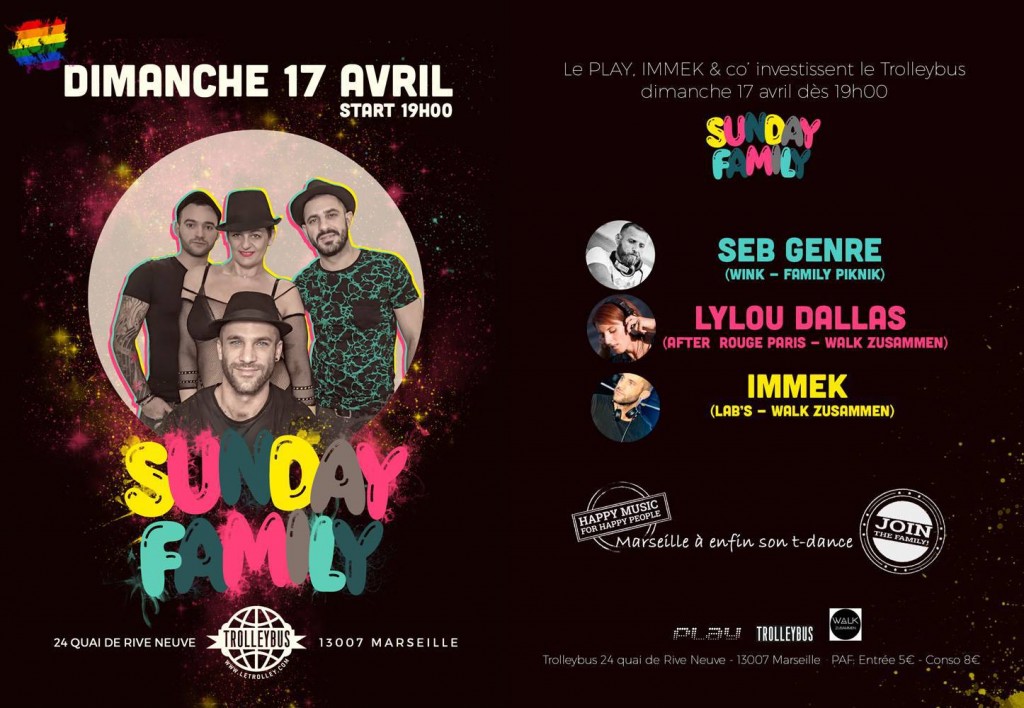 Au programme:
– SEB GENRE (WINK – FAMILY PIKNIK) – Montpellier
https://soundcloud.com/seb-genre
– LYLOU DALLAS (AFTER ROUGE PARIS – WALK
ZUSAMMEN)
https://soundcloud.com/lylou-dallas
– IMMEK (LAB'S – WALK ZUSAMMEN)
https://soundcloud.com/immek
People from Marseille, happy fews from south of France:
Nous vous attendons nombreux Dimanche 17 avril !
Ensemble vivons un moment magique au Trolleybus exceptionnellement ouvert pour cet évènement.
Dès maintenant n'hésitez pas à en parler à vos amis, please share and like your new party!
Pour que vos dimanches ne ressemblent plus jamais à des dimanches
… Join the family :)
# PAF: Entrée 5€ – Conso 8€
La direction se réserve le droit d'entrée.
————————–————————–————————-
TROLLEYBUS – 24 Quai de Rive Neuve – 13007 Marseille